A lot of visitors attended Art Fair Kyoto which is held for second time and closed over without misadventure.
I owe my success entirely all interested parties.
I would like to take advantage of this opportunity to thank you all for your kindly support and cooperation.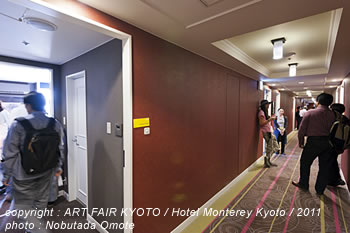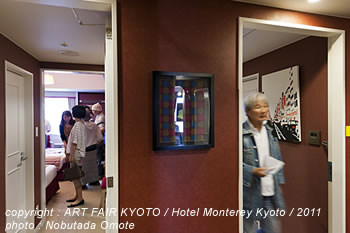 Art Fair Kyoto had held as a hotel type art fair which consists of 1 floor and 35 rooms last year, and it archieves to grow very much at second year.
The admission deposit system which is introduced tentatively has obtained not only many responses but also effects of sales, so that it seems to permeate already in this time.
In general, Kyoto gets the impression as a creation field or classic, traditional art.
So far one of the greatest task for Kyoto is how to come into existence and development as a market.
It is feared against Japanese national power through the Great East Japan Earthquake,
Our art fair has shown that Western Japan, especially Kyoto is competitive place against Tokyo for art industry where has international brand proven history.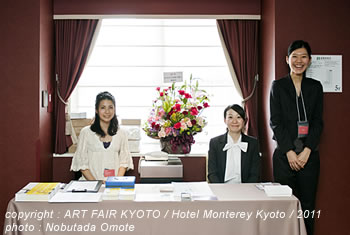 More than anything else, all of people who had experienced this art fair at the scene should have an opportunity to think about Kyoto, art market or art trade.
Executive committee will take a step forward to accumulate new history again.
I report the result simply this time.
Please see below.




◎Visitors

Visitors with
invitation ticket
Paying customers
(purchasing the deposit)
the total amount
of visitors
Visitors for several days
(through ticket)
1st day, 5/20(Fri)

4 0 0

2 5 0

6 5 0

2nd day, 5/21(Sat)

4 5 0

5 0 0

9 5 0

3 0 0

3ed day, 5/22(Sun)

4 5 0

5 0 0

9 5 0

7 0 0

Total

1, 3 0 0

1, 2 5 0

2, 5 5 0

1, 0 0 0
| | |
| --- | --- |
| All Total | (visitors+through ticket) 3, 5 5 0 |



◎Participants for reception party (invitation) on 20th / 2,000 people

◎Participants for Talk event hosted by executive committee on 21th / 1st division : 70 people, 2nd division : 40 people

◎The number of utilize deposit -the sum of 3 days / 226 (¥452,000)

◎"Rehabilitation and reconstruction to the Great East Japan Earthquake - art works for charity sales / 37 pieces ¥532,350
 **Half of amount sold will send for support the affected area through Japanese Red Cross.








That's all for official announcement from executive committee.
I can not stop believing that everyone clearly comes to feel invisible vigor and real pleasure for this art fair, or the possibility of Kyoto in Japan.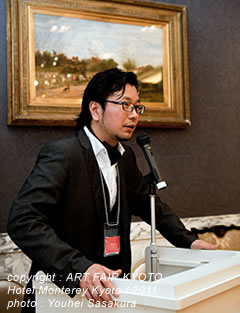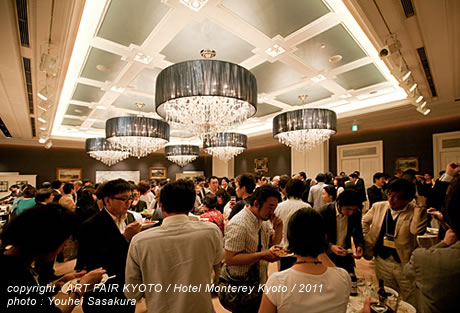 Inheriting expansively, our art fair will evolve to an international, large-scale style under new organization.
There will have plural site which regards cardinal points and a lot of art events held everywhere in Kyoto City.

Keigo Ishibashi who has acted as executive representative for two years will support big project as a committee next year.
We appreciate your continued support, cooperation and pay attention.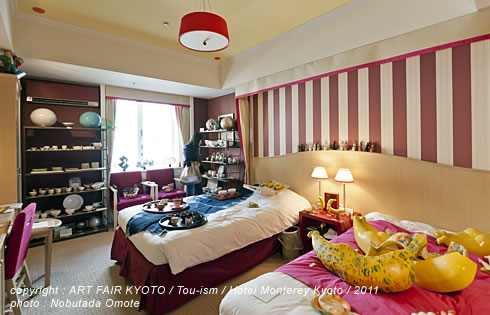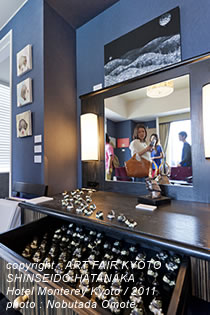 I hope to meet you in Kyoto next year!



Art Fair Kyoto Executive
Representative
Keigo Ishibashi(neutron)
the end of May, 2011








[ ART FAIR KYOTO 2011 ENGLISH MAIN PAGE / 英文 ]
ART FAIR KYOTO 2011 in Hotel Monterey
※Finished in Art Fair Kyoto 2011.Thank you for coming.