【 Room 408 】
MIZUMA ART GALLERY(Tokyo)
2F Kagura Bldg., 3-13 Ichigayatamachi Shinjuku-ku,
Tokyo 162-0843
OPEN HOURS / 11:00-19:00
CLOSED / Sun. Mon. & National Holidays
TEL. +81-(0)3-3268-2500
TEL. +81-(0)3-3268-8844
URL.
http://www.tomiokoyamagallery.com/
mail.
gallery@mizuma-art.co.jp
Director / MIZUMA Sueo
Founded in 1994
【 Artists 】
AIDA Makoto, IKEDA Manabu, OJUN, KONOIKE Tomoko
JunNguyen-HATSUSHIBA,TENMYOYA Hisashi,
MIYANAGA Aiko, YAMAGUCHI Akira, etc...
Mizuma Art Gallery opened in 1994. 
Since then we are introducing mainly Japanese and Asian artists whose works aren't caught in the current "style" and who are with unique sensibilities, to the international art scene, and many of them are now internationally recognized. 
We start organizing exhibitions of Western artists who are new to Japanese audiences in recent years. 
"Mizuma Action" was set up  in 2005 in order for more artists to have an opportunity to show their works. 
We hope to contribute to further development of Japanese contemporary art scene.We opened new space Mizuma & One in Beijing, in April 2008, to aim further development and expansion of contemporary art market in Asia. He supports and introduces the artists from Japan and Asian countries who are not constrained in current "style" and have attitude to this consumer society.

【 ART FAIR KYOTO 2011 Exhibit artist 】
AIDA Makoto(Painting), TENMYOYA Hisashi(Painting), OJUN(Painting)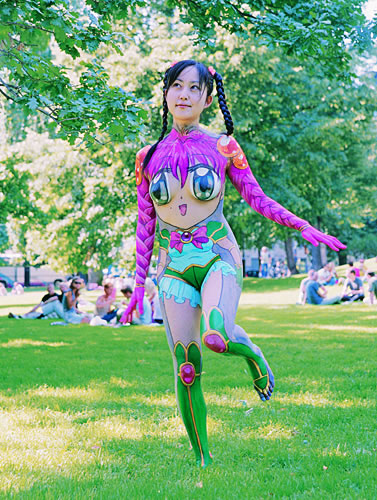 「Body Painting with Koe in Stockholm (front), ed.20」 AIDA Makoto
2004
34 x 24.2 cm / c-type print
created in collaboration with Koe
(c)AIDA Makoto Coutesy Mizuma Art Gallery
[
Back to 4F floormap
]



「Art Fair Kyoto organizing committee」
neutron
2F Fumitsubaki Bldg. 79 Mikura-cho, Nakagyo-ku, Kyoto-city,
JAPAN 604-8166
TEL & FAX +81-(0)75-211-4588