【 Room 434 】
gallery C.A.J.(Kyoto)
129 Tominokouji,Oike-sagaru,Nakagyo-ku,
Kyoto, 604-8224
OPEN HOURS / 13:00-18:00
CLOSED / Monday,Tuesday
TEL. +81-(0)75-211-3648
URL.
http://kondo-kyoto.com/caj/top.html
mail.
cajkyoto@mbox.kyoto-inet.or.jp
Director / Hitomi Kondo
Founded in 2006
【 Artists 】
Yoko IZAWA, Takashi  KOJIMA, Emiko SUO, Miho NOKA
Noriko ASANO, Kanako IIDA, Makiko ODA, Keiwa KOBAYASHI
Jewelry allows you to speak for yourself and bring out the individual.
Weat, gallery C.A.J,. wish to share in your enjoyment of self-branding through atool called "Jewelry".

【 ART FAIR KYOTO 2011 Exhibit artist 】
Takashi KOJIMA, FUmiki TAGUCHI, Ritsuko OGURA
Michihiro SATO, Emiko SUO, Meiri ISHIDA, Miho NOKA
Camilla Prasch, JANNA SYVANOJA, Katja Prins etc.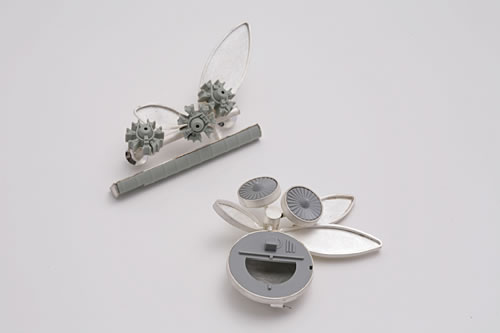 Brooch「Flowers」 Katja Prins
2004 
87mm×49mm×35mm / 72mm×58mm×42mm
Silver, Plastic
[
Back to 4F floormap
]



「Art Fair Kyoto organizing committee」
neutron
2F Fumitsubaki Bldg. 79 Mikura-cho, Nakagyo-ku, Kyoto-city,
JAPAN 604-8166
TEL & FAX +81-(0)75-211-4588