【 Room 501 】
GALLERY GOTO(Tokyo)
7F GINZA CHUO-DORI BLDG1-7-5 GINZA CHUO-KU 
TOKYO,104-0061 JAPAN 
OPEN HOURS / 11:30-18:30
CLOSED / Sunday
TEL. +81-(0)3-6410-8881
FAX. +81-(0)3-6410-8882
URL.
http://www.gallery-goto.com/
mail.
ggoto@juno.ocn.ne.jp
Director / MARIKO  GOTO
Founded in 1998.2
【 Artists 】
Tetsuya Noda, Tetsuo Nosaka, Shigeaki Hayakawa
Atsuya Tominaga, Kai Yokota, Hideki Morimoto
Yutaka Takayanagi, Akinori Ito, AY-O, Sanae Watanabe
This is a gallery of various artists including new artists and veteran artists.
We suggests you life with arts and shows you how rich it is.
With exhibitions, we have a program of collaboration between artists and musician and hope to give you a chance of feeling and enjoying arts as much as possible.

【 ART FAIR KYOTO 2011 Exhibit artist 】
Tetsuo Nosaka(prints), Atsuya Tominaga(sculpture)
Kana Ito(plain), Yuichi Kashima(plain), Eiko Sudo(ceramics)
Haruhiko Yoshinaga(woodblock prints), Tadashi Nowaki(prints)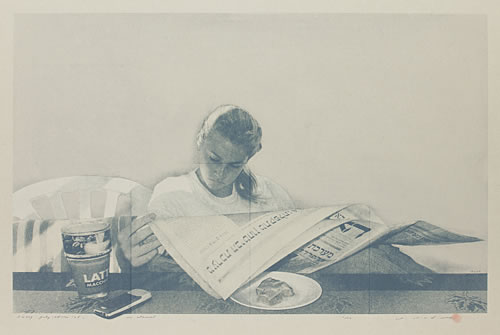 「Diary:July.28th'08.in Israel」 Tetsuya Noda
2008
53×84cm / woodcut, silk screen
[
Back to 5F floormap
]



「Art Fair Kyoto organizing committee」
neutron
2F Fumitsubaki Bldg. 79 Mikura-cho, Nakagyo-ku, Kyoto-city,
JAPAN 604-8166
TEL & FAX +81-(0)75-211-4588