【 Room 505 】
TOKYO FRONTLINE(Tokyo) [Art Fair Exchange]
303-304 Arts Chiyoda 3331 6-11-14 Sotokanda,
Chiyoda-ku, Tokyo 101-0021 JAPAN
TEL. +81-(0)3-3835-1813
FAX. +81-(0)3-3835-1814
URL.
http://www.tokyofrontline.jp/
mail.
info@tokyofrontline.jp
Director / Shigeo Goto
Founded in 2010
【 Artists 】
Toshiyuki Kajioka, Hirokazu Tokuyama, Tetsuya Nagato
Takahiro Komuro, Taisuke Koyama
The Tohoku greate earthquake, tsunami and the blast of the nuclear plant in Fukushima, Japan was stroken by a series of disaster in 2011. From different point of view, it also means that the situation questions the nation about our relationship with nature, ecosophy, power of art and so forth. Of course we appreciate the support and compassion by the other countries, however, at the same time it is necessary to take it as our mission to discuss and realize our contribution to create a better world.
TOKYO FRONTLINE believes contemporary art is no exception. We have already started our operation to next edition,and we are delighted to present the works (some are new works and prototype of artist's new experience) of selected artists as our 'Statement' toward 2012.

【 ART FAIR KYOTO 2011 Exhibit artist 】
Toshiyuki Kajioka, Hirokazu Tokuyama, Tetsuya Nagato
Takahiro Komuro, Taisuke Koyama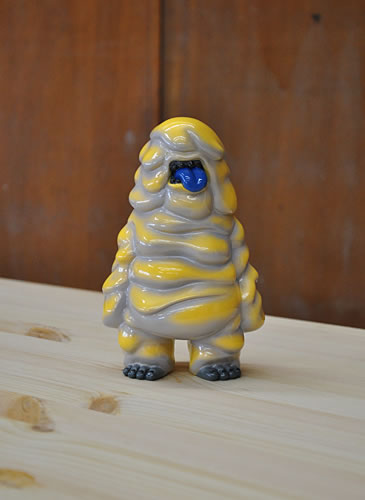 「MELLOW」 Takahiro Komuro
2010
20×6×16cm / FRP,urethan resin painting
©Takahiro Komuro
[
Back to 5F floormap
]



「Art Fair Kyoto organizing committee」
neutron
2F Fumitsubaki Bldg. 79 Mikura-cho, Nakagyo-ku, Kyoto-city,
JAPAN 604-8166
TEL & FAX +81-(0)75-211-4588