【 Room 514 】
MARIA SHOBO Co., Ltd [Company exhibition]
Shimodachiuri-Agaru, Muromachi-Dori, Kamigyo-ku,
Kyoto, 602-8014 JAPAN
TEL. +81-(0)75-432-1201
FAX. +81-(0)75-441-2923
URL.
http://www.mariashobo.jp/
mail.
info@mariashobo.jp
Director / Takano Akiko
Founded in 1925
【 Artists 】
Koichi Takeuchi, Koichi Kawabata, Aoi Kusudo, Jun Kamei, Hiroshi Oishi
A lover of art who was devoted to only one favorite can find another loved and venture into the world you've never known. This experience acts as a good stimulus, and it creates new relationship.
This is our dream and mission.

【 ART FAIR KYOTO 2011 Exhibit artist 】
AOI Kusudo(watercolor), JUN Kamei(doll)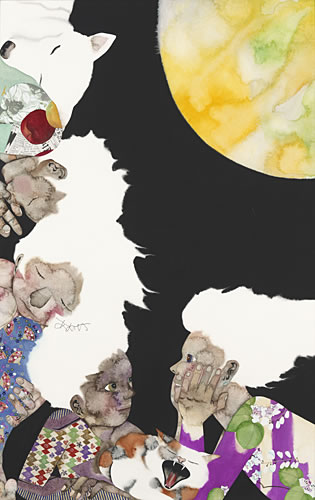 AOI Kusudo
2010
102×65cm / watercolor
[
Back to 5F floormap
]



「Art Fair Kyoto organizing committee」
neutron
2F Fumitsubaki Bldg. 79 Mikura-cho, Nakagyo-ku, Kyoto-city,
JAPAN 604-8166
TEL & FAX +81-(0)75-211-4588