【 Room 527 】
Yorozu Gallery(Nagoya)
Sakae South Square 2F ,3-25-39 Sakae,Naka-ku,Nagoya,
Aichi 460-0008,Japan
OPEN HOURS / 11:30-19:30
CLOSED / Monday
TEL & FAX. +81-(0)52-242-4001
URL.
http://www.yawoyorozu.com/
mail.
man@yorozu07.x0.com
Director / Ai Ito
Founded in 2007
【 Artists 】
tomohiro nakagawa, nobuhiro yoshijima, ken matsunaga
yuko takagi, yoko furusawa, tasuku aoyama
kunihiro mutoh, akifumi okumura
"Naturally Introducing Art & Smile into one's Daily Life."
…As a single primary gallery, we are trying to expand the potential of Living Artists and Art itself, by organizing temporary and permanent exhibitions.

【 ART FAIR KYOTO 2011 Exhibit artist 】
tomohiro nakagawa(painting), nobuhiro yoshijima(solid)
ken matsunaga(painting)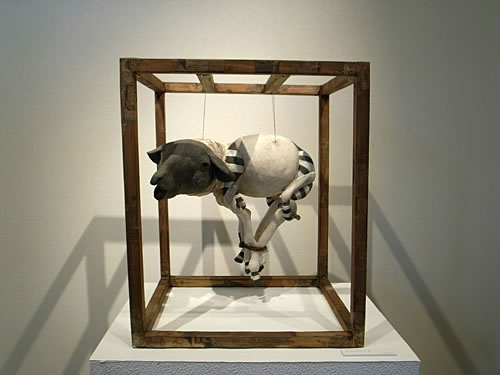 「inscitiaⅠ」 nobuhiro yoshijima
2011
w45cm×h53cm×d35cm / ceramic
100,000yen(tax included)
[
Back to 5F floormap
]



「Art Fair Kyoto organizing committee」
neutron
2F Fumitsubaki Bldg. 79 Mikura-cho, Nakagyo-ku, Kyoto-city,
JAPAN 604-8166
TEL & FAX +81-(0)75-211-4588